All About BlogWorld

BlogWorld & New Media Expo will be hosting the 4th annual Conference October 14-16, 2010 in Vegas.  Having attended 2 previous BlogWorlds, I can give you the inside skinny on why you must be there and some helpful advice for attending.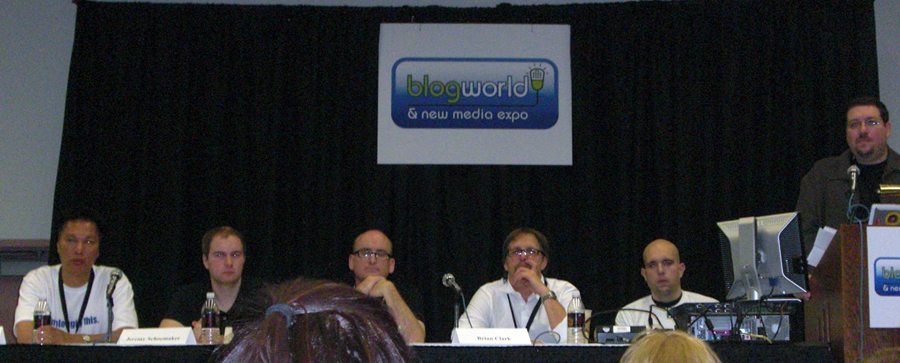 Why Go?
Simply put, you can't get this much value for the investment any other way.  In the past, I have had a chance to attend sessions with industry leaders like Jeremy Schoemaker (Shoemoney), Darren Rowse, Brian Clark, Chris Brogan, and Stephan Spencer.  Add in keynotes from Gary Vaynerchuk and Tim Ferris, and I got enough inspiration to get my blogging and social media skills kicked into high gear for some time.  It is not the same as sitting in front of your computer reading blogs and tweeting!  The networking opportunities are terrific.  Everyone is approachable and friendly.
Don't Skip Thursday
The Thursday sessions are focused on corporate blogging, podcasting, social media and use of new media technology in business environments.  There is a much smaller attendance for this day which requires a full access pass.  Do not miss this day's events.  The setting is more intimate for networking before the masses arrive, and you won't be disappointed.  In 2008, Guy Kawasaki and Steve Rubel spoke during the luncheon (which is included in the price).
Twitter During the Event
Every room is equipped with a huge screen in the front that shows the latest twitter feed with the #BWE hashtag.  It is non-stop tweeting including to the speakers during the sessions!

The Trade Show
The trade show portion is an added bonus.  You get to meet a diverse group of vendors and check out new products.  Of course, be sure to have room in your suitcase for all the SWAG you will get.
Other Advice
Wear comfortable shoes.  Lots of walking on concrete.  Consider not carrying your computer around unless you have a lightweight machine.  Bring your camera, digital recorder and/or flip camera.   You won't want to miss opportunities to record the important moments.
If you want to attend parties, tweetups, and more, be sure to sign up for all facebook groups and follow other attendees on twitter right before the event.
The hotel prices are very aggressive this year.  I prefer to stay at the Renaissance because it is so close to the South Hall, but the Hilton and Courtyard have really low pricing.
Be Sure To Sign Up Early for Price Breaks

Click here and use coupon code TWEET20 for 20% off sale.  Hope to see your there!  Tweet to @custommarketing or comment below to let us know if your are attending!

Special thanks to Rick, Libby, Dave, et al for a great event.